Sports bras get a lift thanks to UK Sports Institute and Panache
The UK Sports Institute (UKSI) and Panache are combining their expertise to offer high performance athletes a bespoke bra fitting service, breast health education and access to high quality sports bras.
Having initially rolled the service out in the build-up to the Tokyo Games, the UKSI has been working closely with a small team of Garment Technologists from Panache to support sports and athletes with specific performance needs.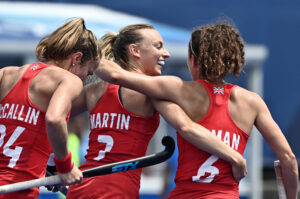 Based in Sheffield, Panache have been crafting bras for over 40 years and are now an official Performance Bra Consultant to the UKSI. Their award-winning sports bras come in over 70 sizes, from B to J cup, and have been tested in conjunction with Loughborough University.
Head of Sports Medicine and Co-Lead of Female Athlete Health at the UK Sports Institute Dr Anita Biswas said: "We have been directly supporting female athletes with breast health education and access to sports bras since 2020. The benefit of a well-fitting sports bra in high-performing athletes is increasingly being recognised, so we are really pleased to be working with lingerie industry leaders Panache to help athletes with a range of performance needs.
"A correctly fitted sports bra not only supports performance but can improve comfort and confidence too. This is particularly important as we provide services to a variety of athletes with different requirements from their bra; from those preparing for a major competition, to nursing mothers who are just returning to elite sport."
John Power, CEO of Panache added: "We are so delighted to become official consultants for the UKSI. It's a fantastic opportunity to work with such a great team of people who share our advocacy for breast health. We very much look forward to seeing and sharing the positive results from this relationship!"
The UKSI has a workstream dedicated to female athlete health and performance which is led by a multidisciplinary team of sports medicine doctors, physiologists, physiotherapists and performance innovation consultants.
The team provides individual support to athletes through a specialised clinic, led by a consultant in sports and exercise medicine. The group also supports sports with developing their own female athlete health and performance optimisation projects to support the success and wellbeing of female athletes within their programme. These projects often cover areas such as: clinical and health support, relationships, behaviors, apparel, environment and training.
The current series of the UKSI Insider Podcast is dedicated to Female Athlete Health and Performance, with an episode dedicated to sports bras and breast health, featuring Senior Performance Innovation Consultant at the UKSI Fiona Johnson and Garment Technologist at Panache Rachel Baker. LISTEN HERE